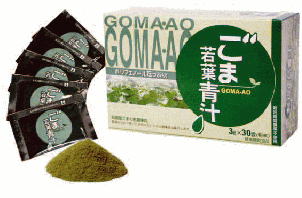 Plentifully Polyphenole!"Tasty Green Juice"
No matter who can't drink bitters !

Containing more than 1.2% "Acteocide"
The Sesame Leaves Cultivated with LOVE, Plentifully inside.
For vegetable deficiency, health and beauty.
Germinated Brown-rice Fermented Extracts (GABA) Mixed in.
Off course, no Agricultural chemicals between cultivation. Furthermore, only pure Japanese Sesame Leaves used.
How to drink
Drink with a cup(about 180cc) of water(hot water) or soy milk.



Cultivating with Love!
---
Sesame Young Leaf components (in 100g)
| Analysis Test Item | Sesame Leaf | Barley | Kale |
| --- | --- | --- | --- |
| Moisture | 8.0g | 5.4g | 4.5g |
| Iron | 16.6mg | 20.6mg | 5.5mg |
| Folic acid | 760MU/g | 290MU/g | 540MU/g |
| Calcium | 1360mg | 429mg | 1530mg |
| Kalium | 4900mg | 1430mg | 2170mg |
| Magnesium | 477mg | 142mg | 248mg |
| Vitamin A | 187MU/g | 72MU/g | 206MU/g |
| Alpha Carotene | 40MU/g | Not detected | Not detected |
| Beta Carotene | 2220MU/g | 864MU/g | 2470MU/g |
| Riboflavin(Vitamin B2) | 1.40mg | 0.85mg | 0.81mg |
| Vitamin E | 4.2mg | 3.4mg | 8.7mg |
| Lutein | 11.3mg | 9.17mg | 9.25mg |
| SuperOxide Dismutase | 1500units/g | 80units/g | 630units/g |
| Polyphenole | 1300mg | 600mg | 860mg |
(Test Organization: Japan Food Research Laboratories / Japan Food Hygiene Association)
*These data are based on the materials of Sesame Young Leaf
*The value of Iron has been changed from 203mg to 16.6mg after the second analysis(revised January 17, 2008)

Order and Questions here
Wadaman Science Co., Ltd.
Tel 075-222-7318 Fax075-222-0318